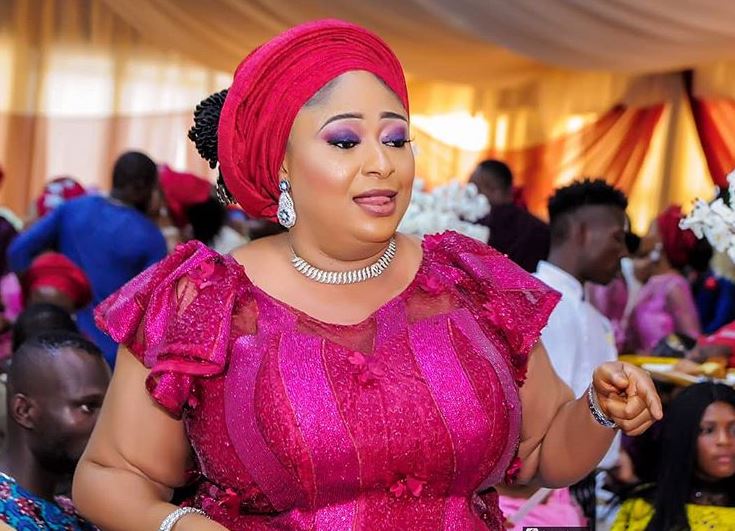 Ronke Ojo famously known as Ronke Oshodi Oke is a well-known Nigerian actress, movie producer, musician and director. She was born in the year 1974, July 17th in Lagos State, Nigeria. Ronke Ojo is from the Western part of Nigeria, Ondo State to be precise. She is a well-known actress and has been in the Nollywood industry for many years. Ronke Ojo has five siblings. While we were little, we saw so many movies where she featured so it necessary to know a bit more on Ronke Ojo biography.
All You Need To Know About Ronke Ojo Biography
Ronke Ojo Educational Background
She was born and brought up in Lagos State and had her primary and secondary school education in Lagos. Ronke primary education was at Yemetu Nursery and Primary School in Agege and her secondary education was at Muslim College, Oworonsoki.
She started acting immediately after she graduated from secondary school, she did not attend any higher institution to further her studies.
Ronke Ojo Career
Immediately after she finished secondary school, she joined a drama group called Star Parade which was led by Fadeyi, a popular Nollywood actor then.
She joined this drama group in 1995 and was not known until the year 2000 when she featured in a movie titled "Oshodi Oke". The movie got her popular and that was where she got her stage name "Ronke Oshodi Oke". Also, She is more famously known by her stage name than her real name.
She has featured in other top movies such as "Wicked In-Law" and "Shattered Dreams". Ronke is well known and more active in the Yoruba movie industry.
Ronke Ojo has appeared in numerous movies in the course of her acting career, she interprets her role perfectly well and can fit perfectly into any role assigned to her by movie directors. Aside from acting, Ronke has produced and directed various films, she is very creative and talented as well. 
Ronke Ojo is naturally endowed, she is big and has a frontal endowment, she revealed in an interview that she was ashamed of her boobs because they were so big, she stated that she later started seeing the beautiful side and wasn't ashamed anymore because it fits her. She also revealed that her boobs are one of the things that made her so popular and famous in the movie industry.
The actress is also a talented singer. She started singing and recording in 2014, that same year, she recorded her first album. She featured Popular singer 9ice in a single she titled "Ori Mi" in 2015.
Ronke Ojo Movies
Ronke Ojo has appeared in lots of movies, below are some of her films
Oshodi Oke: 2000

Asiri: 2002

Okun Ife: 2004

Okun Ife 2: 2004 

Aimasiko eda: 2006

Succubus: 2014

Wicked In-Law

Shattered Dreams

Isan Laye

Eesu

Agbere Oju

Return of Jenifa

Abeke Aleko

Abeke Eleko 2

Ajiloda

Return of Jenifa
Ronke Ojo Marriage
The superb actress and singer is happily married. Ronke is married to Anthony Gbolahan and their union is blessed with two children. In an interview, Ronke discloses that she is against divorce and she also expressed disappointment on the high rate of divorce in the entertainment industry. She said the main factors that cause divorce are poverty, high levels of unemployment, lack of commitment, impatience among youths, infidelity, social media and lots more.
Ronke Ojo Awards and Nomination
She won the Award of the Best Actress in a Leading Role (Yoruba) at the Best of Nollywood (BON) in 2018

Nominated by City People Movie Award for Yoruba Movie Personality of the Year (Female) in 2018

Nominated by City People Movie Award for Best Movie of the Year (Yoruba) in 2018
Ronke Ojo Net Worth
The veteran actress is very recognised in the Yoruba movie industry and also in the Nollywood industry as a whole. She is very influential and has lots of younger actresses in the Nollywood industry looking up to her.
Her major source of income is her movie producing and acting career. Furthermore, She is also rated as one of the richest with an estimated net worth of about $200,000.
That is a summary of what we have on Ronke Ojo biography, if you have any additional information, you can send us an email.