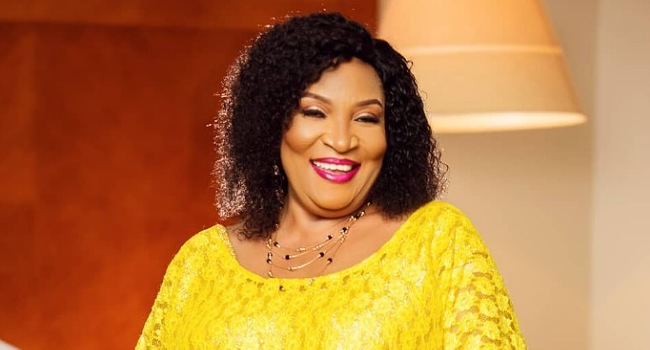 Ngozi Nwosu is a veteran Nigerian Actress and Film Producer. Nwosu is a beautiful and dynamic actress who has been in the Nigerian Movie Industry for decades. The actress has faced challenges both professionally and personally and her career remained solid due to her incredible talent and tenacity. 
Her official Instagram account is @officialngozinwosu, where she updates her fans of over 130k about her upcoming and old projects.
All You Should Know About Ngozi Nwosu Biography 
Growing Up.
Ngozi Nwosu was born on August 1st, 1963. She is a native of Arochukwu, a town in Abia State, southeastern Nigeria. Nwosu grew up in Lagos State which is one of the reasons she is fluent in the Yoruba language mainly spoken in the western region of Nigeria, she is also fluent in the Igbo language which is her indigenous language as well as the English language. Nwosu's father, a Biafran veteran was murdered during the Nigeria Civil War, other information about Ngozi Nwosu's childhood and family is unknown.
Education.
She attended St. Paul Anglican School, Idi Oro for her primary education, she then continued to Maryland Comprehensive High School, Ikeja, and finalized her high school education at East Rosary High School. Nwosu started her professional acting training under the leadership of Reverend Fabian Oko, which was done at the Royal Theater Art Club School.
How Nwosu's Career Started
Ngozi Nwosu began her acting career while she was still an acting student in school, most of which were performed in the Yoruba language. She played "Madam V boot" in the television series, "Ripples". While on set in Living in Bondage, Nwosu is associated with being the first actress to kiss on set during her romantic session with Kenneth Okonkwo. She is also known for playing "Peace" in the sitcom, Fuji House of Commotion (created by Amaka Igwe). Her character was the second wife of Chief T.A. Fuji, often shown as his favorite.
Ngozi Nwosu Career Breakthroughs
Nwosu's career breakthrough happened when she played the role of "Peace" in the sitcom "Fuji house of commotion". It was a series that was loved by the entire household in the country at the time and it catapulted her career from zero to a hundred very fast.
She played the character "Ene" in the Nigerian animation film "Sade" in 2018. Her character was based on a woman who didn't use what she had until it was lost. According to Nwosu, everybody can relate to the film because of its comedic tone.
She was the producer of "Evil Passion", "Stainless", and the radio show "Onga". Nwosu has also starred in music videos of Chidinma Ekile, Phyno, and Fair Prince.
Ngozi Nwosu Movies
Ngozi Nwosu has featured in several movies which include the following;
Living In Bondage 

Ripples

Fuji House of Commotion

Autophobia

Shade

Nucleus

Evil Passion

Dream Job

Stainless

Skinny Girl In Passion

Stigma

Knockout

Sweet Face

The In-Laws

Crazy Grannies

Light in the Dark

The Other Wife

Little Drops Of Happy 

Whose Meal Ticket

Isoken

The Inn

My Wife And I 

Old Cargos 1 & 2

Tanbolo

Benson Ville
Notable Achievements
Nwosu has attained many notable heights in her career like signing several endorsement deals with top Nigerian brands, like Airtel a top telecommunication company, Samvita food, Mamador, among others.
AWARDS/RECOGNITIONS
Ngozi Nwosu was nominated for many awards and many recognitions, and some of them are:
City People Movie Special Recognition Award 2014

City People Matriarch Recognition Awards 2018
INTEREST
Ngozi Nwosu Net Worth
Ngozi Nwosu has earned a lot through her acting and producing career as well as her many endorsements deals, although she has spent almost all her money on her health when she was sick almost nine years ago. Currently, her net worth is $250,000, which is incredible given what she has been through.
Personal Life
The veteran actress is currently single although she has been married before, she walked away from her marriage with her ex-husband. She has also dated a few men since the crash of her marriage but nothing notable. Nwosu has mentioned recently that she is still open to the idea of marriage if she finds the right person. The actress also has no children of her own.
In 2012, Nwosu fell sick, which took a toll on her career. The diagnosis was said to be associated with kidney disease. She ultimately got treatment abroad with the help of the government and some non-governmental organizations.