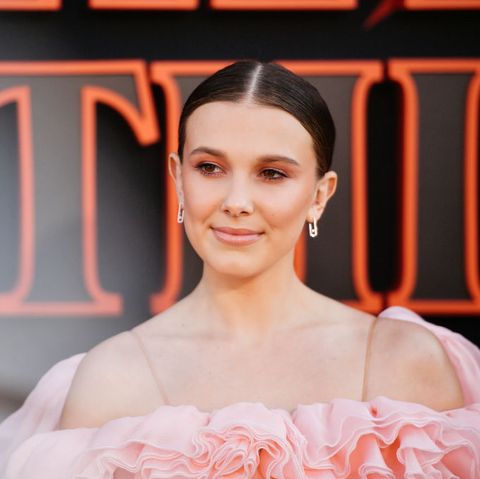 Millie Bobby Brown is a British actress and producer. She came to the limelight after joining the cast of the Netflix science fiction series Stranger Things in 2016 which earned her multiple award nominations. Brown was also featured in the movie Godzilla: King of the Monsters and its sequel Godzilla vs. Kong. She was also cast in and produced the Netflix mystery film Enola Holmes and the newly released sequel.
Millie Bobby Brown Biography
Millie Bobby Brown was born on 19th February 2004 in Marbella, Málaga, Spain. She is the third child of her parent's four children. She was born to British parents Kelly and Robert Brown, a real estate agent. Brown was born with partial hearing loss in her left ear and slowly lost all hearing in the ear years later. She relocated alongside her family back to Bournemouth England when she was four years old and when she was eight, the family moved again to Orlando, Florida, U.S.A.
As of 2022, Brown is an online student at Purdue University studying health and human services.
Millie Bobby Brown Career
Brown made her first appearance as an actor in 2013 as a guest star in the ABC fantasy drama series Once Upon a Time in Wonderland, playing the role of Young Alice. The following year she joined the cast of the BBC America paranormal drama-thriller series Intruders portraying Madison O'Donnell. She also made guest appearances in the acclaimed CBS police procedural drama NCIS, the ABC sitcom Modern Family, and the ABC medical drama series Grey's Anatomy.
In 2016, Brown landed the recurring role to play Eleven in the Netflix science fiction horror series Stranger Things which earned her several accolades.
Brown voiced the virtual reality experience Spheres: Songs of Spacetime. She cast her first feature in the 2019 film Godzilla: King of the Monsters, and in its sequel, Godzilla vs. Kong in 2021.
In 2020, Brown cast in and produced the film adaptations of The Enola Holmes Mysteries. In 2022, she reprises her role as Enola Holmes in the sequel, Enola Holmes 2. Brown recently became an ambassador of the famous fashion brand Louis Vuitton.
Brown has upcoming projects as executive producer of the fantasy film Damsel for Netflix, directed by Spanish filmmaker Juan Carlos Fresnadillo. She is also set to star in the Russo brothers' The Electric State.
Millie Bobby Brown Movies and TV Shows
2013: Once Upon a Time in Wonderland
2014: Intruders
2014: NCIS
2015: Modern Family
2015: Grey's Anatomy
2016–present: Stranger Things
2018: Spheres: Songs of Spacetime
2019: Godzilla: King of the Monsters
2020: Mariah Carey's Magical Christmas Special
2020: Enola Holmes (Also producer)
2021: Godzilla vs. Kong
2022: Enola Holmes 2 (Also producer)
2023: Damsel (Also producer)
2024: The Electric State
Brown also appeared in five music videos by artists such as Drake, Cardi B, Mariah Carey, and Maroon 5 among others. She was also featured in the 2018 video game The Sims 4.
Millie Bobby Brown Awards/Nominations
For her outstanding performance in portraying the character Eleven in the acclaimed Television series Stranger Things she got nominated twice in 2017 and 2018 for Primetime Emmy Awards, 5 nominations from 2017-2020 for Screen Actors Guild Awards, and won its 2017 Outstanding Performance by an Ensemble in a Drama Series. Besides these Brown also has won 12 other awards and 18 nominations.
In 2018, Brown was named one of the 100 most influential people in the world by Time magazine making her the youngest person to be included in the list. She was also named by Time magazine as one of the most influential teens of 2017 and 2018. Brown also became the youngest person ever to be appointed a UNICEF Goodwill Ambassador in 2018.
Personal Life
Brown was constantly bullied on social media as a young teenager which forced her to close her Twitter account. When she turned 18 in February 2022, her social media profiles were bombarded with sexually explicit material from users.
Brown has been in a romantic relationship with actor Jacob Hurley Bongiovi, son of musician Jon Bon Jovi since 2021. They recently got engaged.
Millie Bobby Brown Net Worth
As gathered from reliable sources, Millie Bobby Brown's net worth as of 2022 is $14 million.