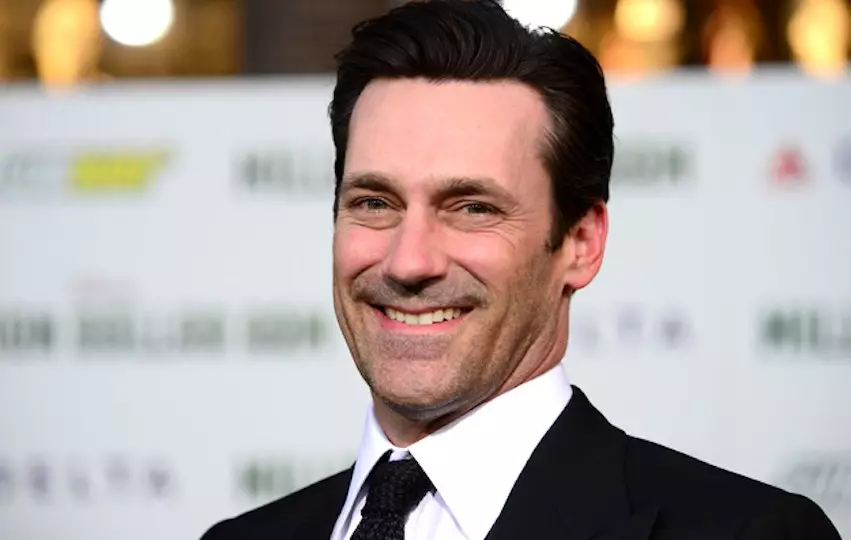 Jonathan Daniel Hamm is a famous American actor and producer. He became popular for portraying the character Don Draper in the historical drama television series Mad Men. He recently joined the cast of Top Gun: Maverick, a film focused on naval aviation.
Jon Hamm Biography
Hamm was born on 10th March 1971, in St. Louis, Missouri. His parents were Deborah Hamm, a secretary, and Daniel Hamm, who managed a family trucking company. Hamm has German, English, and Irish descent. When he was two, his parents divorced so he lived in the St. Louis suburb of Creve Coeur with his mother until she passed away as a result of colon cancer when he was ten. He then moved in with his father and grandmother in nearby Normandy. He lost his father at age 20.
He studied at John Burroughs School in Ladue, where he joined the football, baseball, and swim teams. In high school, he dated actress Sarah Clarke. He graduated high school in 1989 and went to the University of Texas. He became a member of the Upsilon chapter of the Sigma Nu fraternity and was arrested for taking part in a violent crime in his third year. The charges were dismissed in 1995 after he had completed his probation.
Hamm then transferred to the University of Missouri.
Jon Hamm Career
Hamm's first acting role was in his first grade playing Winnie-the-Pooh. At 16, he was cast as Judas in the play Godspell. While he was at the University of Missouri he responded to an advertisement from a theater company aiming to hire actors for a production of A Midsummer Night's Dream; Hamm joined the cast of the production and got more roles such as Leon Czolgosz in Assassins.
He moved to Los Angeles in 1995 to pursue acting full-time while waiting tables part-time. He was represented by the William Morris Agency but after 3 years of not getting any acting roles for three years, the agency dropped him as a client. He didn't give up and later worked as a set designer for a softcore pornography movie.
Hamm finally got a role, portraying Burt Ridley on the drama series Providence. His initial 1 episode contract became 19. He made his first feature movie with a one-line role in Clint Eastwood's adventure film Space Cowboys. He got more significant roles after that in films like We Were Soldiers, CSI: Miami, Nu3bers, etc.
Hamm also appeared in several commercials and became the face of many products.
Hamm had a breakthrough in his career in 2007 when he joined the cast of the AMC's drama series Mad Men. This role earned him an award and many nominations. Hamm appeared in multiple films and shows following this role.
In 2022, Hamm was featured in Top Gun: Maverick, a sequel to 1986's Top Gun, alongside Tom Cruise. He joined the cast of Confess, Fletch.
Jon Hamm Movies and TV Shows
Hamm has appeared in several Television series and films, listed below are some of them;
1996: The Big Date
1997: Ally McBeal
2000: The Hughleys
2000: The Trouble with Normal
2000: Space Cowboys
2001: Kissing Jessica Stein
2002: We Were Soldiers
2002: Gilmore Girls
2002-2004: The Division
2006: Ira & Abby
2006–2007: The Unit
2006-2007: What About Brian
2007: The Ten
2007–2015: Mad Men
2008: The Day the Earth Stood Still
2009: A Single Man
2009: Stolen
2010: Shrek Forever After
2010: The A-Team
2010: The Town
2010: Howl
2011: Sucker Punch
2011: Bridesmaids
2012: Friends with Kids — (producer)
2013: The Congress
2014: Million Dollar Arm
2015: Minions
2015–2020: Unbreakable Kimmy Schmidt
2016: Absolutely Fabulous: The Movie
2016: Keeping Up with the Joneses
2016–2020: All or Nothing
2016–2018: The Amazing Gayle Pile
2017: Marjorie Prime — (producer)
2017: Baby Driver
2017: Aardvark
2018: Nostalgia
2018: Beirut
2018: Tag
2018: Time of Day
2018: Bad Times at the El Royale
2018: Legion
2019: The Report
2019: Lucy in the Sky
2019: Between Two Ferns: The Movie
2019: The Jesus Rolls
2019: Richard Jewell
2019-present: Good Omens
2020: Wild Mountain
2021: No Sudden Move
2021: Invincible
2021: Marvel's M.O.D.O.K.
2022: Top Gun: Maverick
2022: Corner Office
2022: Confess, Fletch — (producer)
2022: Password
2023: Grimsburg
TBA: The Morning Show
TBA: Fargo
TBA: The Morning Show
TBA: Maggie Moore(s)
He has also appeared in a few music videos, 3 podcasts, and 2 audiobooks.
Jon Hamm Awards/Honors
Hamm is globally seen to be a sex symbol, in 2007, he was named one of Salon.com's Sexiest Man Living and also one of People magazine's Sexiest Men Alive in 2008. Entertainment Weekly named Hamm one of their Entertainers of the Year in 2008 and 2010.
Hamm received the GQ's "International Man" award in 2010.
Hamm has won an Emmy, two Golden Globes, and two Screen Actors Guild Awards and also 34 nominations from all these three awards organizations. He also received several other awards and nominations from other noteworthy events.
Jon Hamm Personal Life
Hamm dated actress and screenwriter Jennifer Westfeldt from 1997 to 2015. The two never tied the knot but regarded themselves as married without the legal document. In April 2009, they both established their own production company, Points West Pictures.
Presently, Hamm is dating actress Anna Osceola.
The actor is an ardent fan of the St. Louis Blues National Hockey League (NHL) team and also a fan of the St. Louis Cardinals Major League Baseball (MLB) team.
In 2015, Hamm completed inpatient treatment for alcoholism; he also reportedly developed vitiligo.
Jon Hamm Net Worth
Jon Hamm's net worth is estimated at $45 million as of 2022.