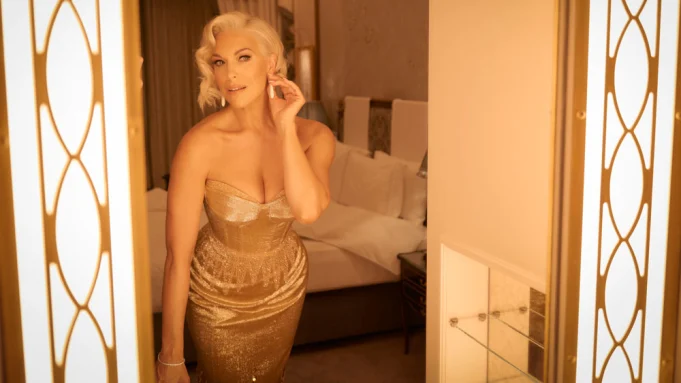 Hannah Waddingham is a British actress and musician. She is popular for portraying Rebecca Welton in the comedy series Ted Lasso since 2020. She is also known for appearing in shows, such as Spamalot, The Wizard of Oz, Game of Thrones, and Sex Education.
Hannah Waddingham Biography
Waddingham was born on 28th July 1974, in Wandsworth, London. She was born into a family of musicians; her mother Melodie Kelly was an opera singer, and both her maternal grandparents as well. Waddingham's mother became a part of the English National Opera when she was eight years old, so she grew up running around the theater.
Waddingham graduated from the Academy of Live and Recorded Arts. She has a four-octave vocal range.
She started in dinner theater, performing in the interactive comedy Joni and Gina's Wedding
Hannah Waddingham Career
Waddingham has been a stage actress on both London's West End and New York's Broadway. She performed as Starbird in Space Family Robinson and Suzanne Valadon in Lautrec. She played the Lady of the Lake in Spamalot, both in the London production and later on Broadway. She portrayed Desirée Armfeldt in Trevor Nunn's revival of A Little Night Music.
In 2010, Waddingham portrayed the Witch in the Woods at London's Open Air Theatre production. She started the role of The Wicked Witch of the West in the West End production of The Wizard of Oz, which was shown at the London Palladium, and was also the first to perform the new Lloyd Webber and Rice song "Red Shoes Blues". In 2011, Waddingham was cast in the concert premiere of Styles and Drew's Soho Cinders at the Queens Theatre, London. That same year, Waddingham featured in Season 4, of the hit BBC sitcom, Not Going Out, her first onscreen role.
In 2012, Waddingham was cast in Chichester Festival Theatre's revival of Kiss Me, Kate. She had a small role in the 2012 film Les Misérables, and in 2014, she was cast in the ITV comedy Benidorm. She portrayed Septa Unella, in the 5th and 6th seasons of Game of Thrones. She also has a recurring role on the Netflix series Sex Education as Sophia Marchetti.
Waddingham started to portray Rebecca Welton on the Apple TV+ series Ted Lasso. She also featured as the Mother Witch in Hocus Pocus 2, Disney's sequel to Hocus Pocus on Disney+ in 2022.
She is set to feature as Lady Bellaston in the ITV drama miniseries Tom Jones, based on Henry Fielding's 1749 novel.
Hannah Waddingham Movie and TV Shows
2000–2001: The Beautiful Game
2002: Space Family Robinson
2002: Coupling
2002: Brookside
2003, 2006: My Hero
2005: William and Mary
2005: Footballers' Wives
2005: Hollyoaks: Let Loose
2006: The Only Boy for Me
2006: Bad Girls: The Musical
2006–2007, 2008: Spamalot
2008: Doctors
2008: How to Lose Friends & Alienate People
2009: M.I. High
2009: A Little Night Music
2010: Marple
2010–2011: My Family
2010: Into the Woods
2011: Agatha Christie's Marple
2011: The Wizard of Oz
2011: Not Going Out
2012: Les Misérables
2012: Kiss Me, Kate
2012: Bad Education
2014: Our Gay Wedding: The Musical
2014: Benidorm
2015: Partners in Crime
2015–2016: Game of Thrones
2016: The Entire Universe
2016: Josh
2017: 12 Monkeys
2018–2019: Krypton
2018: Winter Ridge
2019–present: Sex Education
2019: The Hustle
2020–present: Ted Lasso
2021: Midsomer Murders
2022: RuPaul's Drag Race UK
2022: Willow
2022: Hocus Pocus 2
2023: Tom Jones
2024: The Fall Guy
2024: Garfield
Hannah Waddingham Awards/Nominations
She won 4 different awards in 2021; Critics' Choice Television Awards for Best Supporting Actress in a Comedy Series, Hollywood Critics Association TV Awards for Best Supporting Actress in a Streaming Series, Comedy, International Online Cinema Awards for Best Supporting Actress in a Comedy Series, and lastly, Primetime Emmy Awards for Outstanding Supporting Actress in a Comedy Series.
In 2022, Waddingham received Screen Actors Guild Awards for Outstanding Performance by a Female Actor in a Comedy Series.
She has received several other awards nominations for both her music and acting career.
Personal Life
Waddingham was in a relationship with Italian businessman Gianluca Cugnetto, whom she has a daughter with. Her daughter was born with an autoimmune disease, Henoch–Schönlein purpura.
Hannah Waddingham Net Worth
Hannah Waddingham's net worth as of 2022 is $4 million.