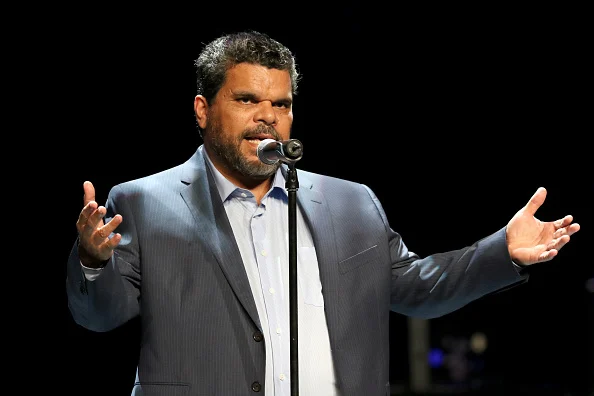 Luis Guzmán is a Puerto Rican actor. His career spans over 4 decades and includes several films and television series. One of his latest roles is in the Netflix teen horror series Wednesday where he portrayed Gomez Addams, Wednesday's father.
Luis Guzmán Biography
Luis Guzmán was born on August 28, 1956 in Cayey, Puerto Rico. He was raised in Greenwich Village and its surrounding Lower East Side Neighborhood of New York City. His mother, Rosa, worked in a hospital, and his stepfather, Benjamin Cardona, was a TV repairman.
Guzmán studied at The American University and soon after that he started a career as a social worker and started a part-time career in acting, ultimately he became more involved in street theater and independent films.
Career
Guzman started his acting career in 1977 when he made his debut playing a minor role in the movie Short Eyes. Following that he appeared in numerous movies and TV shows, most of which are listed in the next section.
Luis Guzmán Movies
Here are some of Guzman's most popular works both television series and films;
1977: Short Eyes
1983: Variety
1985: The Equalizer
1985–86: Miami Vice
1986: No Picnic
1987: *batteries not included
1988: Crocodile Dundee II
1989: True Believer
1989: Rooftops
1989: Black Rain
1989: Family Business
1990: Q & A
1991: The Hard Way
1991: McBain
1992: Innocent Blood
1992: Jumpin' at the Boneyard
1993: Guilty as Sin
1993: Naked in New York
1993: Mr. Wonderful
1993: Carlito's Way
1994: The Cowboy Way
1995: Lotto Land
1995: Stonewall
1995: House of Buggin'
1996: The Substitute
1997: The Brave
1997: Boogie Nights
1998: Out of Sight
1998: Snake Eyes
1998: One Tough Cop
2000: Oz
1999: The Limey
1999: The Bone Collector
1999: Magnolia
2000: Luckytown
2000: Traffic
2001: Double Whammy
2001: Sam the Man
2002: The Count of Monte Cristo
2002: The Salton Sea
2002: Punch-Drunk Love
2002: Welcome to Collinwood
2002: The Adventures of Pluto Nash
2003: Confidence
2003: Anger Management
2003: Dumb and Dumberer: When Harry Met Lloyd
2003: Runaway Jury
2003: Luis
2004: Lemony Snicket's A Series of Unfortunate Events
2005: Dreamer
2005: Carlito's Way: Rise to Power
2005: Waiting…
2006: Disappearances
2006: Fast Food Nation
2006: School for Scoundrels
2006: Hard Luck
2007: Maldeamores
2007: War
2007: Cleaner
2007: John from Cincinnati
2008: Beverly Hills Chihuahua
2008: Nothing like the Holidays
2008: Yes Man
2009: He's Just Not That Into You
2009: Still Waiting…
2009: Fighting
2009: The Taking of Pelham 123
2009: Old Dogs
2010–11: How to Make It in America
2011: Arthur
2011: The Caller
2012: Journey 2: The Mysterious Island
2013: The Last Stand
2013: Turbo
2013: We're the Millers
2014: Two Men in Town
2014: In the Blood
2014: The Lookalike
2014: Henry & Me
2014: Top Five
2014: Reclaim
2015: Don Quixote: The Ingenious Gentleman of La Mancha
2015: Narcos
2015–18: Code Black
2015: Ana Maria in Novela Land
2015: Puerto Ricans in Paris
2016: Keanu
2016: The Do-Over
2017: Sandy Wexler
2017: Literally, Right Before Aaron
2017: 9/11
2018: The Padre
2018: Belleville Cop
2021: Lady of the Manor
2021: The Birthday Cake
2021: Ultra City Smiths
2021: Hightown
2022: The Resort
2022: Entergalactic
2022: Wednesday
2023: Havoc
Guzman has also been featured in two video games and four music videos by artists such as Bruno Mars and Marc Anthony.
Luis Guzmán Awards/Nominations
He won the 1998 Florida Film Critics Circle Award for Best Cast
In 2000, Guzman won the Awards Circuit Community Awards for Best Cast Ensemble
Also in 2000, he received the Florida Film Critics Circle Award for Best Cast
He won the 2001 Screen Actors Guild Award for Outstanding Performance by a Cast in a Motion Picture
He received the 2003 Imagen Awards for Best Supporting Actor and in 2008 for Best Actor
In 2011, he won the NAMIC Visions Awards for Best Performance in a Comedy.
Guzman also received other award nominations from Screen Actors Guild Award, ALMA Award, and Independent Spirit Awards.
Personal life
During the 2016 U.S. presidential election Guzmán supported Senator Bernie Sanders for President.
Guzmán currently lives in Cabot, Vermont. He's a well-known humanitarian and has been caught on camera a few times helping out for such causes.
Luis Guzmán Net Worth
Guzman is worth approximately $13 million as of 2022.