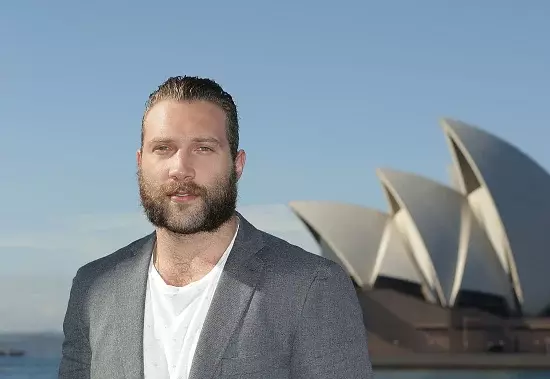 Jai Courtney is an Australian actor. He is well known for his roles as Charlie in the action film Jack Reacher, and Jack McClane Jr. in A Good Day to Die Hard. He was also featured in the film I, Frankenstein, and The Exception as well as the Black Site.
Jai Courtney Wife, Age and Full Bio
Jai Courtney was born on 15th March 1986 in Cherrybrook, a suburb of Sydney to parents Chris and Karen.  He has no wife but currently has a girlfriend, Mecki Dent. His father worked for a state-owned electricity company, and his mother was a teacher at Galston Public School, where Courtney and his older sister were also pupils.
He played Rugby and was a member of his school drama club. Courtney later studied at Cherrybrook Technology High School and the Western Australian Academy of Performing Arts, where he graduated in 2008.
Jai Courtney Career
In 2005, Courtney landed his debut role in the short film Boys Grammar alongside Daniel Feuerriegel and Adam J. Yeend. In 2008, he was cast in the Australian series Packed to the Rafters, then guest starred in the acclaimed All Saints, the comedy feature To Hell & Bourke, and several short films. In 2010, Courtney portrayed Varro in Spartacus: Blood and Sand and subsequently starred in Jack Reacher in 2012 alongside Tom Cruise and also in the film A Good Day to Die Hard alongside Bruce Willis. In 2014, he was cast in the films I, Frankenstein, and Felony.
In 2014, Courtney was cast as Eric, one of the Dauntless faction leaders in the science fiction film Divergent. That same year, he was cast in Unbroken, and The Water Diviner. In 2015, He reprised the role of Eric in Insurgent, a sequel to Divergent. He also played the role of Kyle Reese, in the science fiction action film Terminator Genisys.
Also in 2015, Courtney was cast to play Captain Boomerang in the 2016 DC Extended Universe film Suicide Squad. In 2017, he landed the main role of Macbeth in the Melbourne Theatre Company's production of Macbeth. He played the role of a corrupt FBI agent in the thriller film Honest Thief, which was released in October 2020. In 2021, Courtney reprised the role of Captain Boomerang in The Suicide Squad, a standalone sequel to Suicide Squad. He is also set to star in the action thriller film Black Site and the thriller series The Terminal List and Kaleidoscope.
Jai Courtney Movies and TV Shows
Courtney was cast in the following Television series and films;
2008: All Saints
2008–2009: Packed to the Rafters
2009: Stone Bros.
2010: Spartacus: Blood and Sand
2012: Jack Reacher
2013: A Good Day to Die Hard
2014: I, Frankenstein
2014: Divergent
2014: Felony
2014: Unbroken
2014: The Water Diviner
2015: The Divergent Series: Insurgent
2015: Terminator Genisys
2015: Man Down
2016: Suicide Squad
2016: The Exception
2017: Wet Hot American Summer: Ten Years Later
2017: Macbeth
2019: Storm Boy
2019: Alita: Battle Angel
2019: Semper Fi
2019: Buffaloed
2020: 100% Wolf
2020: Stateless
2020: Honest Thief
2021: Jolt
2021: The Suicide Squad
2022: Black Site
2022: Love, Death & Robots
2022: The Terminal List
2023: Kaleidoscope
Jai Courtney Net Worth
The Australian actor as of 2022 is worth a sum of $3 million.