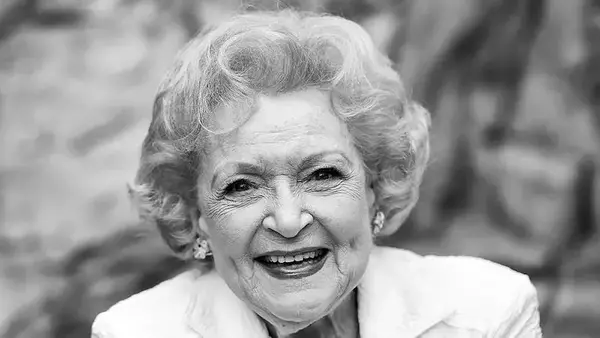 Betty White was an American actress, Comedian, and pioneer who has been in the movie industry for more than seven decades. One of the first to work on and off the camera with her exceptional skills and her vast body of work in the entertainment industry. She remains one of the first women to produce a Sitcom in 1953 – 1955.
Betty White Biography

 
Born on January 17, 1922, in Oak Park, Illinois, United State. Betty Marion White Ludden was the only child of Horace Logan White who was an executive in a lightning company and Christine tess who was a housewife at the time, Betty's Father a true son of Michigan, moved the family to Alhambra, California later to Los Angeles when she was about a year old. In 1929 –1939, there was an Economic shock at the time that was simply referred to as "The Great Depression". It was a time of financial recession that became evident of a major fallback in stock prices in the United States. The economic crisis started around September, and by October 24, the Wall Street market had already fallen. The longest, deepest, and most widespread depression of the 20th century was referred to as "The Black Thursday".
Due to the hardship of the nation, Betty's father would make and sell a "Crystal Radio Receiver ", a simple radio receiver popular in the early days of radio. Sometimes he would trade the radio for other things as there was no stable income at the time.
White started her education in Beverly Hills at the Horace Mann Elementary School, then later at Beverly Hills High School. After She graduated in 1939, Her curiosity in wildlife was finally put to test after she aspired to become a forest ranger after a family vacation to the Sierra Nevada. but at the time, women were not allowed to serve as rangers. After a while, She started writing. She discovered her interest in performing after writing and played a lead role in a graduation play at Horace Mann School, which led to her determination to pursue her career as an actress.
Betty White Career

 
After the war, White went to movie studios to look for work, but she was turned down because she was not as photogenic as she thought she was. After a while, Betty started looking for radio jobs, where being photogenic did not matter
Her first radio job was reading commercials and playing parts, and sometimes crowd noises which were paying five dollars per show. It got to a point where she would do just about anything, like acting or singing on a show without being paid. She appeared on shows such as Blondie, The Great Gildersleeve and This Is Your FBI". In 1949, She started her radio show called "The Betty White Show". 
In 1952, White began hosting the show all by herself for four years; she worked five and a half hours per day. In all of her series over the years, Betty would always sing a couple of songs during each broadcast. She got her first nomination in 1951 when she was nominated for an Emmy Award as the "Best Actress" on television.
Later In the fall of 1952, the same year she began hosting "Hollywood on Television", Betty, Tibbles, and Fedderson worked to create new shows using different characters from sketches shown on Hollywood on Television. The show, which was a live production, allowed White to become one of the few women in television with full creative control in front of and behind the camera.
She made several appearances in tv shows such as First Lady of Gameshows, Password and Advise & Consent in the 1960s, Mary Tyler Moore Show and The Betty White Show in the 1970s, Mama's Family and The Golden Girls in the 1980s, Guest roles and return to the big screen in The Proposal in 1990-2009, Career resurgence, Saturday Night Live and Hot in Cleveland I'm 2010-2021.
White also performed in television advertisements on live television in Los Angeles before her death.
Betty white's Awards and Recognitions

 
White won (5) Primetime Emmy Awards, (2) Daytime Emmy Awards, (1) Los Angeles Emmy Award in 1952, Lifetime Achievement Daytime Emmy Awards, (3) American Comedy Awards, (2) Viewers for Quality Television Awards, TCA Career Achievement Awards.
She was named the Mayor of Hollywood in 1955, (1) Genii Award, (1)American Comedy Award, (1) Lifetime Achievement Award, (1) Humane Award, and (1) Disney Legends award. She was later honored in 2010 with the forest ranger award. White always wanted to be a forest ranger right from her youth days, but at the time, women were not allowed to be a ranger then. After White received the Awards, more than one-third of Forest Service employees were women.
After 70 years in the industry, White was invited to become a member of the Academy of Motion Picture Arts and Sciences in 1997 at age 95, which made her the oldest new member at the time.
Betty White Movies and Books
Time to Kill – 1945, Hollywood on Television – 1949, Life with Elizabeth – 1952-1955, The Millionaire – 1956, Date with the Angels – 1957-1958, Advise & Consent – 1962, The United States Steel Hour – 1962, Another World – 1964, That's Life – 1968, Petticoat Junction – 1969, Vanished – 1971, Lucas Tanner – 1975, Ellery Queen – 1975, The Mary Tyler Moore Show – 1973-1977, The Betty White Show – 1977-1978, With This Ring – 1978 
Her Voice movie roles are: 
Snavely – 1978, The Best Place to Be – 1979, Before and After – 1979, Stephanie – 1981, Best of the West – 1981, Love, Sidney – 1982, Eunice – 1982, Fame – 1983, Hotel – 1984, St. Elsewhere – 1985, The Love Boat – 1980-1985, Who's the Boss? – 1985, Mama's Family – 1983-1986, The Golden Girls – 1985-1992, Alf Loves a Mystery – 1987, D.C. Follies – 1987, etc.
Betty wrote a couple of books in the '80s, How Pets Take Care of Us. W. Morrow, The Leading Lady Together, If You Ask Me (And of Course You Won't), Penguin, My Life at the Zoo. And some audiobooks like the 2004 "Here We Go Again, "If You Ask Me, I'm the following year, and of course, You Won't. 
Betty White Husband
While White was working with the American Women's Voluntary Services, she met "Dick Barker", an Air Force P-38 pilot. They got married right after the war in 1945 and moved to Ohio where Barker owned a ranch. He wanted to embrace a simpler life, but White wasn't enjoying living a simple life as Barker wants. They returned to Los Angeles, and within a year they were divorced. 
White later married "Lane Allen" in 1947, a Hollywood Talent Agent. They were divorced in 1949 because they both wanted different things. Allen wanted to start a family but she wanted to focus on her career rather than having children.
On June 14, 1963, White remarried television host Allen Ludden", whom she had met on his game show in 1961 playing as a celebrity guest. She took on her husband's name "Betty White Ludden" legally. They remained married until he died in 1981 from stomach cancer in Los Angeles. 
Betty White Cause of Death
White died on the 31, December 2021 after suffering from a stroke. She died while sleeping in her home in "Brentwood neighborhood, Los Angeles" at the age of 99. Her body was later cremated.
White's death came as a shock to many as the movie icon has left struggling after being down with a stroke. There were tributes from numerous media organizations from all over the world, including entertainers, politicians, sports teams, and many public figures. Her star on the Hollywood Walk of Fame was flooded with flowers and tributes after her death.
Her personal belongings were sold along with her houses in California homes in April and June 2022 respectively. Some of her wardrobe pieces and five of her Emmy Awards were donated to the National Comedy Centre.
Betty White Net Worth

 
As of 2021, White's net worth is estimated to be around $75 million