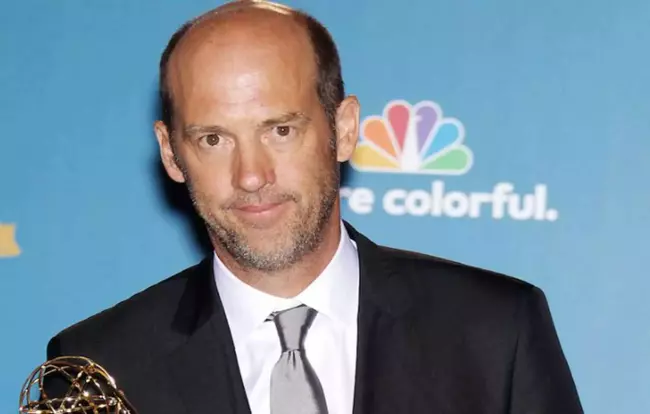 Anthony Charles Edwards is an American actor and movie director. He is popular for his performances as Dr. Mark Greene on the television series ER. He has also appeared in several other acclaimed films and television series, including Top Gun, Sexual Healing, Miracle Mile, Revenge of the Nerds, Northern Exposure, Designated Survivor, and Inventing Anna.
Anthony Edwards Actor Age, Net Worth and Bio
Anthony Edwards was born on 19th July 1962 in Santa Barbara, California. He was one of the five children of Erika Kem Edwards Plack, an artist/landscape painter, and Peter Edwards, an architect. His maternal grandfather was a furniture and industrial designer, architect, art director,
Kem Weber. He is of German and Irish descent.
Edwards attended San Marcos High School and graduated in 1980. He obtained a scholarship to attend the Royal Academy of Dramatic Arts in England. He then studied theater at the University of Southern California. By his late teens, he was earning enough through his acting so he left college to focus on acting full-time.
Anthony Edwards Career
Edwards made his acting debut in 1973 in the film Big Zapper, however, he made a breakthrough in his career portraying LTJG Nick "Goose" Bradshaw alongside Tom Cruise in the 1986 film Top Gun. The scenes from when his character died were reprised as flashbacks in the 2022 sequel Top Gun: Maverick.
Edwards gained more prominence in his role as Dr. Mark Greene on the television series ER, from 1994 to 2002. The series was also where Edwards had his first chance to direct. His desire to start a career as a director led to his request to be written out of the series. In 2008, he returned to ER to reprise his role as Dr. Greene. Edwards took some time off the big screen to raise his children.
In 2010, Edwards was cast in the movie Motherhood. He reunited with Val Kilmer, and follow Top Gun actor when he was voice cast as one of the fighter jets in the Disneytoon Studios film Planes.
In 2018, Edwards got a recurring role in the third season of Netflix's Designated Survivor as Mars Harper, the President's Chief of Staff. That same year he made his Broadway debut as the second act in the revival of Children of a Lesser God at Studio 54. He had appeared in the 2015 Classic Stage Company's A Month in the Country but his stage acting career started when he was growing up in Santa Barbara.
On May 13, 2022, Edwards made a Broadway musical debut as Dr. Walker in the Broadway production of Girl from the North Country alongside his wife, Mare Winningham.
In 2022, Edwards was featured as Alan Reed in Netflix's docu-series Inventing Anna.
Anthony Edwards Movies and TV Shows
Edwards has been featured in the films and television shows listed below either as an actor, executive director, or both;
1973: Big Zapper
1981: The Killing of Randy Webster
1981: Walking Tall
1982–1983: It Takes Two
1983: High School U.S.A.
1982: Fast Times at Ridgemont High
1983: Heart Like a Wheel
1983: High School U.S.A.
1984: Revenge of the Nerds
1984: Call to Glory
1985: Going for the Gold: The Bill Johnson Story
1985: Gotcha!
1985: The Sure Thing
1986: Top Gun
1987: Summer Heat
1987: Revenge of the Nerds II: Nerds in Paradise
1988: Hawks
1988: Miracle Mile
1988: Mr. North
1989: How I Got into College
1990: El Diablo
1990: Hometown Boy Makes Good
1990: Downtown
1992: Pet Sematary Two
1992: Delta Heat
1992: Landslide
1992–1993: Northern Exposure
1993: Sexual Healing
1994: The Client
1994: Charlie's Ghost Story
1994–2002, 2008: ER
1995: Saturday Night Live
1996: In Cold Blood
1998: Good Night, Gorilla
1998: Playing by Heart
1999: Don't Go Breaking My Heart
1999: Border Line
1999: N.Y.H.C.
2000: The Island of the Skog
2001: Jackpot
2001: Cursed
2001: Frasier
2001: My Louisiana Sky
2003: Northfork
2003: Die, Mommie, Die!
2004: Thunderbirds
2004: The Forgotten
2007: Zodiac
2009: Motherhood
2010: Flipped
2010: Temple Grandin
2012: Big Sur
2013: Planes
2013: Zero Hour
2015: Experimenter
2015: Consumed
2015: Girls
2015: Blue Bloods
2016: Billions
2016: Law & Order: Special Victims Unit
2016: Drunk History
2016: My Dead Boyfriend
2017: Law & Order True Crime
2019: Designated Survivor
2022: Inventing Anna
2022: WeCrashed
2022: Tales of the Walking Dead
2022: Top Gun: Maverick
Anthony Edwards Awards/Nominations
Edwards was nominated four times for the Emmy Awards for Outstanding Lead Actor in a Drama Series for ER and won as an executive producer on Outstanding Television Movie winner Temple Grandin. He won a People's Choice Award in 1995 for Favorite Male Performer in a New Television Series and also won six Screen Actors Guild Awards for Outstanding Performance by a Male Actor in a Drama Series (1996,1998), and Best Ensemble Cast (1996, 1997, 1998, 1999). Edwards won the 1998 Golden Globe Award for Best Performance by an Actor in a Television Drama. In 1999, he also won a Daytime Emmy for the production of the underground rock documentary N.Y.H.C. and the telepic adaptation of the coming-of-age novel My Louisiana Sky in 2001. In 2003, Edwards received the Carnegie Medal Award for My Louisiana Sky.
Anthony Edwards Actor Son, Daughters and Marriage
In 19944, Edwards married Jeanine Lobell, and they had 4 children; one son, Bailey Edwards and three daughters. The marriage ended in 2015. In late 2021, Edwards and fellow actor Mare Winningham, who was also his longtime friend, eloped.
On November 10, 2017, Edwards wrote an essay on the writer's platform, Medium, where he stated that screenwriter/producer Gary Goddard befriended and then sexually assaulted him and many of his friends "for years" starting when they were 12 years old.
Edwards became a licensed private pilot in 2012.
Anthony Edwards Actor Net Worth
As of 2023, Anthony Edwards is worth $40 million.