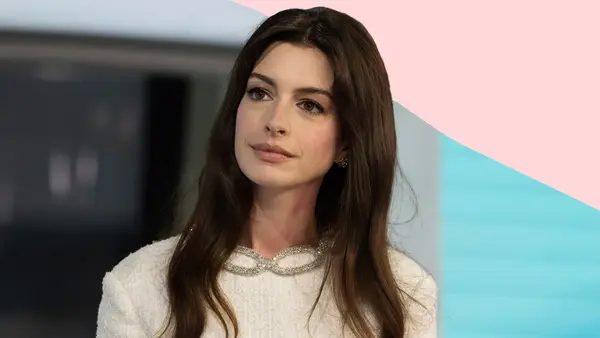 Anne Hathaway Jacqueline is an American actress. She played the White Queen in Tim Burton's 2010 adaptation of the fantasy novels Alice's Adventures in Wonderland and Fantine in Tom Hooper's Les Misérables. Hathaway is one of the many actresses that portrayed princesses so well that they become role models to children. She also once hosted an Academy Award.
Anne Hathaway Net Worth, Age and Biography
Anne Jacqueline Hathaway was born on 12th November 1982, in Brooklyn, New York City to parents Gerald, a labor attorney, and Kate, a former actress. Hathaway was named after Shakespeare's wife. She is of Irish, English, French, and German descent. She has an older brother, Thomas, and a younger brother Michael. She was raised in Millburn, New Jersey, where her family moved when she was six years old. Until age fifteen, Hathaway and her family were Roman Catholic, however, when her brother Michael came out as gay they left the church as it does not support homosexuality.
Hathaway watched her mother, Kate, play Fantine in the first national tour of Les Misérables and became enthralled by the stage and acting, her parents were not keen on her pursuing an acting career. Her mother eventually quit acting to raise her children.
She attended Brooklyn Heights Montessori School and Wyoming Elementary School in Millburn, while she was in Millburn High School, she was part of the soccer team and also had roles in many school plays such as Once Upon a Mattress, where she played Winnifred and also as Jane Eyre and Gigi, at New Jersey's Paper Mill Playhouse. Hathaway attended the American Academy of Dramatic Arts and was the first teenager accepted into the Barrow Group Theater Company's acting program. Her major was English and political science minor at Vassar College in Poughkeepsie, New York, where she studied before transferring to New York University's Gallatin School of Individualized Study.
In her teenage years, she spent two years singing soprano with the All-Eastern U.S. High School Honors Chorus at Carnegie Hall and in plays at Seton Hall Preparatory School in West Orange, New Jersey. A few days after Carnegie, Hathaway was cast in the Fox television series Get Real as Meghan. Also in her teens, she struggled with depression and anxiety.
Anne Hathaway Career
In 2001, while in college, she was cast in The Princess Diaries and later in the adventure drama The Other Side of Heaven. The two films were a huge success which also led Hathaway to a great start in her career. A year later, she was cast in the City Center Encores! concert production of Carnival! She received positive reviews for her performance in the musical. She then voiced the audiobook of the first three books in The Princess Diaries novels on its release. Hathaway went on to star as a young adult in several movies following that. She quickly became a role model for young girls by her taking on princesses' roles.
In 2005, Hathaway felt like she had to grow with her fans and transitioned into adult roles, the first of many was voicing Red Puckett in Hoodwinked! She then appeared in the drama Havoc, her character appeared in a few nude scenes which led to some criticism from her fans. She was then cast in the drama Brokeback Mountain as Lauren, this role earned her an Academy Award nomination. In 2006, Hathaway starred in the comedy-drama The Devil Wears Prada alongside Emily Blunt. A year later, she played Jane in the biographical romantic drama Becoming Jane, based on the life of English author Jane Austen. In 2008, she hosted an episode of the NBC late-night sketch comedy Saturday Night Live. She also appeared in the film adaptation of Mel Brooks' television series Get Smart as Agent 99. That same year, she starred in the mystery thriller Passengers and drama Rachel Getting Married.
Hathaway went on to appear on a billion dollar grossing film; Alice in Wonderland, and several others high grossing films. In 2010, she co-hosted the 83rd Academy Awards with James Franco. In 2014, Hathaway was cast as Fantine, a sex worker dying of tuberculosis, in Tom Hooper's Les Misérables, a film adaptation of the stage musical. The same role her mother played in the stage musical and which she fantasized about. Moving forward, Hathaway began to take on comedy roles and mostly her roles fluctuated, she became more dynamic. In 2022, Hathaway was cast in the Apple TV+ miniseries WeCrashed and also in the 2023 period thriller Eileen and in the comedy She Came to Me.
Anne Hathaway Movies and TV Shows
Get Real (1999-2000), The Princess Diaries, The Other Side of Heaven (2001), Nicholas Nickleby (2002), The Cat Returns (2003), Ella Enchanted, The Princess Diaries 2: Royal Engagement (2004), Hoodwinked! Havoc, Brokeback Mountain(2005), The Devil Wears Prada (2006), Becoming Jane, Elmo's Christmas Countdown (2007), Saturday Night Live, Get Smart, Get Smart's Bruce and Lloyd: Out of Control, Rachel Getting Married, Passengers (2008), Bride Wars, The Simpsons, Valentino: The Last Emperor (2009), Valentine's Day, Alice in Wonderland, Love & Other Drugs, 10 Mountains 10 Years, The Simpsons (2010), Rio, One Day, Family Guy, 83rd Academy Awards (2011), The Dark Knight Rises, Les Misérables (2012), Girl Rising, Don Jon (2013), Song One, Rio 2, Don Peyote, Interstellar (2014), The Intern, Lip Sync Battle (2015), Alice Through the Looking Glass, Colossal, Documentary Now! (2016), Ocean's 8 (2018), Serenity, The Hustle, Dark Waters, Modern Love (2019), The Last Thing He Wanted, The Witches, Sesame Street: Elmo's Playdate (2020), Locked Down, RuPaul's Drag Race (2021), Armageddon Time, Storybots: Answer Time, Wecrashed (2022), Eileen, She came to Me (2023), Mother's Instinct, The Idea of You (TBA).
Hathaway was also cast in a few stage plays including Carnival! (2002), The Woman in White (2003), Children and Art ((2005), Twelfth Night (2009), Grounded (2015), and The Children's Monologues (2017).
Anne Hathaway Awards / Nominations
As of when this article is being written Hathaway has won 40 awards including an Academy Award, Saturn Awards (1), Golden Globe Award (1), Scream Awards (1), National Board of Review (3), Screen Actors Guild Awards (1) and several others.
She has received 101 award nominations such as Academy Awards, MTV Movie & TV Awards, Teen Choice Awards, People's Choice Awards, Primetime Emmy Awards, and British Academy Film Awards, among others.
Anne Hathaway Husband and Children
In 2004, Hathaway started dating Italian real estate developer Raffaello Follieri. Folleri was arrested in 2008 on charges of posing as a Vatican real estate agent and defrauding investors out of millions of dollars. He was sentenced to four and a half years ago in prison after pleading guilty to the charges.
On September 29, 2012 Hathaway married actor and businessman Adam Shulman in Big Sur, California. In March 2016, the couple welcomed their first child together, a son. In 2019, she gave birth to their second child, also a son.
In 2007, the actress spoke about her struggles with depression in her teenage years.
Hathaway supports same-sex marriage, Abortion-rights, Gun control, and Immigrants' rights. She funds organizations that support the same causes as hers.
Anne Hathaway Net Worth
Anne Hathaway currently has a net worth of $80 million all earnings from her acting and marketing deals.