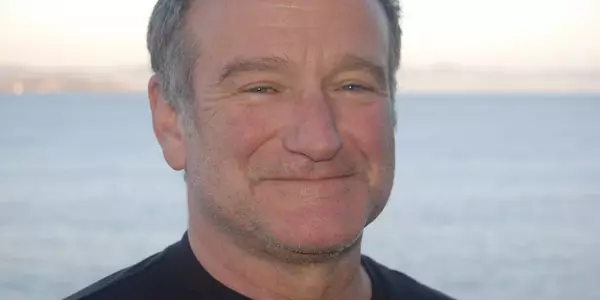 Robin McLaurin Williams was an American comedian, actor, and performer known for his quick wit, talent for improvisation, and exceptional range as an actor. Williams is widely regarded as one of the greatest comedians and actors of his generation.
Robin Williams Biography
Robin Williams was born on July 21, 1951, in Chicago, Illinois, to Robert Fitzgerald Williams and Laura McLaurin. His father was a senior executive at Ford Motor Company, and his mother was a former model.
Williams grew up in the affluent suburb of Bloomfield Hills, Michigan, where he attended the Detroit Country Day School, a private preparatory school. He was a shy and overweight child, and he used humor as a way to cope with his insecurities.
After graduating from high school, Williams attended Claremont Men's College (now known as Claremont McKenna College) in California, where he studied political science. However, he soon dropped out and enrolled at the College of Marin in Kentfield, California, where he discovered his passion for acting.
Williams then transferred to the Juilliard School in New York City, one of the most prestigious performing arts schools in the country. He studied under renowned acting teacher John Houseman and graduated in 1973, alongside classmates such as Christopher Reeve and William Hurt.
During his time at Juilliard, Williams developed his signature style of improvisational comedy and honed his skills as a versatile performer, capable of both dramatic and comedic roles.
Robin Williams Career
Robin Williams had a multifaceted career that included both acting and comedy.
Williams began his career as a stand-up comedian in the 1970s, performing in clubs and on TV shows like "The Richard Pryor Show" and "Laugh-In." He quickly became known for his unique style of comedy, which included rapid-fire improvisation, character work, and social commentary. Williams released several comedy albums, including "Reality…What a Concept," which won a Grammy Award in 1980. He also starred in several HBO comedy specials, including "An Evening with Robin Williams" and "Live on Broadway."
Robin Williams Movies
Williams made his acting debut in the film "Can I Do It 'Till I Need Glasses?" in 1977. He gained mainstream recognition for his role as Mork in the TV series "Mork & Mindy" (1978-1982). Williams' film career took off in the 1980s, with roles in movies such as "Popeye" (1980), "The World According to Garp" (1982), and "Moscow on the Hudson" (1984). He received critical acclaim and numerous award nominations for his performances in films such as "Good Morning, Vietnam" (1987), "Dead Poets Society" (1989), and "The Fisher King" (1991). Williams also became known for his comedic roles in films like "Mrs. Doubtfire" (1993), "The Birdcage" (1996), and "Night at the Museum" (2006).
In the 2000s and 2010s, Williams continued to act in films, including "One Hour Photo" (2002), "Insomnia" (2002), and "The Butler" (2013). He also returned to television, starring in the short-lived series "The Crazy Ones" (2013-2014).
Williams' final film role was in the 2014 movie "Night at the Museum: Secret of the Tomb," released after his death.
Robin Williams Awards / Honors
Robin Williams was a highly regarded actor and comedian who received numerous awards and honors throughout his career. Here are some of the most notable:
Academy Awards:
Best Supporting Actor for "Good Will Hunting" (1997)
Nominated for Best Actor for "Dead Poets Society" (1990), Best Actor for "The Fisher King" (1992), and Best Supporting Actor for "Good Morning, Vietnam" (1988)
Golden Globe Awards:
Best Actor in a Motion Picture – Musical or Comedy for "The Fisher King" (1992) and "Mrs. Doubtfire" (1994)
Best Actor in a Motion Picture – Drama for "Good Morning, Vietnam" (1988)
Cecil B. DeMille Award for lifetime achievement in 2005
Primetime Emmy Awards:
Outstanding Individual Performance in a Variety or Music Program for "Carol, Carl, Whoopi and Robin" (1987)
Outstanding Variety, Music or Comedy Program for "ABC Presents: A Royal Gala" (1988)
Outstanding Individual Performance in a Variety or Music Program for "ABC Presents: A Royal Gala" (1988)
Screen Actors Guild Awards:
Outstanding Performance by a Male Actor in a Supporting Role for "Good Will Hunting" (1997)
Outstanding Performance by a Cast in a Motion Picture for "The Birdcage" (1996)
Other Awards and Honors:
Grammy Award for Best Comedy Album for "Reality…What a Concept" (1980)
Mark Twain Prize for American Humor from the John F. Kennedy Center for the Performing Arts (2002)
Disney Legends Award (2009)
Inducted into the Television Hall of Fame (2018)
Williams' contributions to entertainment and his philanthropy have also been recognized with numerous other honors and awards from organizations such as the American Film Institute, the Hollywood Walk of Fame, and the Screen Actors Guild.
Robin Williams Marriages and Children
Robin Williams was married three times and had three children. Robin Williams married Valerie Velardi in 1978. They had one child together, Zachary Pym Williams, who was born in 1983. However, the marriage ended in divorce in 1988 after Williams had an affair with his son's nanny.
After his divorce from Valerie Velardi, Robin Williams married Marsha Garces in 1989. Garces was Williams' son Zachary's nanny. They had two children together, Zelda Rae Williams, who was born in 1989, and Cody Alan Williams, who was born in 1991. However, their marriage also ended in divorce in 2008.
Robin Williams married his third wife, Susan Schneider, in 2011. The couple met while Williams was recovering from heart surgery. They did not have any children together, and Williams remained married to Schneider until his death in 2014.
Robin Williams Cause of Death and Legacy
On August 11, 2014, Robin Williams was found dead in his home in Paradise Cay, California. The cause of death was ruled as suicide by hanging. Williams had a history of depression and substance abuse, and it was later revealed that he had been diagnosed with Parkinson's disease prior to his death.
The news of Robin Williams' death shocked and saddened his fans around the world, who had come to love him for his quick wit, infectious energy, and wide-ranging talent. In the wake of his passing, many people spoke out about the importance of mental health awareness and the need to address the stigma surrounding mental illness. Williams' legacy continues to be celebrated by those who knew and loved him, and his work continues to inspire and entertain audiences of all ages.
Williams' legacy also includes his philanthropy and advocacy for causes such as St. Jude Children's Research Hospital and the Christopher and Dana Reeve Foundation.
Robin Williams Net Worth
According to various sources, Robin Williams had an estimated net worth of around $50 million at the time of his death in 2014. Additionally, there were rumors that Williams may have donated a significant portion of his wealth to various charitable causes during his lifetime.