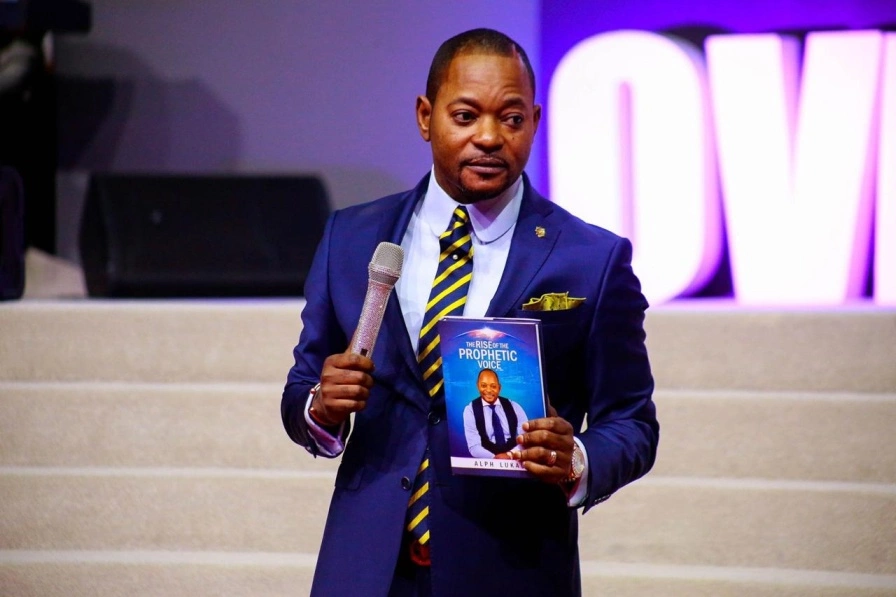 South Africa is a predominantly Christian country and it is no longer news that pastors, especially those who own their churches are billionaires. Just like any other commercial enterprise, the religious sector is fast becoming a gold mine. This article focuses on the top 10 Richest Pastors in South Africa starting from the highest to the lowest.
List of the Richest Pastors in South Africa
1.Pastor Alph Lukau
Pastor Alph is the founder and General Overseer of Alleluia Ministries International. He is a renowned televangelist and Author. Pastor Alph's net worth is $1 billion. The Alleluia founder was born in Kinshasa, Congo on October 25th, 1975. He has several Churches in the world with millions of people in his congregation. Pastor Alph and his wife Celeste are blessed with three sons.
2. Prophet Shepherd Bushiri
The second richest pastor on the list is Prophet Shepherd the founder of Enlightened Christian Gathering Church (ECG). With a net worth of $150 million, he is ranked one of the richest pastors in both South Africa and Malawi. Prophet Shepard's source of income is however not limited to his church ministry. He is also an investor with investments in the UAE and other African countries. He owns a University of Agriculture amongst other businesses. The Enlightened Christian Gathering Church [ECG] headquarters in Pretoria can occupy about 90,000 people. Also, the church also boasts several churches across many African countries. The prophet is happily married with two children.
3. Pastor Chris Oyakhilome
This famous Nigerian man of God is the founder and General Overseer of the Christ Embassy Church. The church recently moved its headquarters to South Africa. Just like the other churches and men of God listed above Christ Embassy Church has millions of churches across the globe. Pastor Oyakhilome's net worth is $126 million. His house is in the heart of Lagos City, Nigeria. It is popularly referred to as the White House and the property is also estimated to be worth over 150 million Naira.
4. Roberta Lee Houston 
Pastor Houston is the first woman to make it to this list and take the fourth position. She is also popularly known as Bobbie Houston, she co-owns the Hillsong church with her husband Brian Houston. The Hillsong Church is famous in South Africa and it has several branches. Pastor Bobbie Houston's net worth is $124 million. Also, The 62-year-old preacher has three children and currently resides in Australia.
5. Prophet Uebert Angel
The Fifth richest man of God in South Africa is the founder of Good News Church. Uebert is currently one of the youngest General Overseers in the country. He is not just a prophet but also a real estate mogul in the United Kingdom. Prophet Uebert also owns a multimillion Academy. This young man of God also serves as a Zimbabwean Ambassador and special envoy. Prophet Uebert's net worth is $70 million. He has a wife and three kids.
6. Pastor Brian Houston 
Brian Houston is married to Robert "Bobbie" Lee Houston, South Africa's fourth Richest pastor. He founded and co-owns the Hillsong church with his wife. His net worth is $70 million. Pastor Brian is a famous Televangelist and people respect him in the society.
7. Pastor Irene Tshifhiwa (Late)
Pastor Tshifhiwa was a famous and respected woman of God. She was a leader at the Divine Truth Ministries, that later changed to the World Restoration Service (WRS). She is especially known for her missionary work. Before her demise in 2018, she was the first South African pastor to have a Television Channel. Her net worth was $42 million. She has no children or husband at the time of her death
8. Pastor Ray McCauley
Pastor McCauley is a popular pastor among the South African Christian community. He is the General overseer of Rhema Bible Church. Also, he is the president of the National Interfaith Council of South Africa and the International Federation of Christian churches. The eighth-richest pastor in South Africa is very conservative though he is worth $28 million. Pastor McCauley's church; Rhema Bible Church is one of the largest churches in South Africa.
9. Pastor Adam Johannes Jakobus Boshoff
Pastor Adam Johannes Jakobus Boshoff, also known as At Boshoff is the founder of the Christian Revival Church (CRC). His Church has several branches across South Africa. Pastor Boshoff's net worth is $28 million. Furthermore, he has three children and grandchildren.
10. Drs. Andre Roebert
Pastor Andre Roebert is the man of God taking the tenth position among the top 10 richest pastors in South Africa. Pastor Andre and his wife Jenny own several religious ministries and investments. Their ministry has its bookshop, airline, broadcast channel, chains of hotels, real estate investment, print company, and Media Centre. Pastor Andre's net worth is $600,000. 
All the men of God listed here are famous for the miracles, signs, and wonders that follow each of their sermons and prayers. They are mentors and great men and women whom millions of people admire and honor.