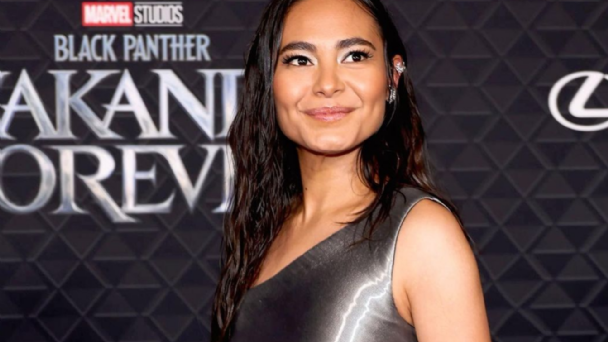 Mitzi Mabel Cadena is a Mexican actress famous for playing Amada Díaz in the 2020 film El baile de los 41 directed by David Pablos. She recently made her Hollywood debut playing the superhero Namora in the 2022 movie, Black Panther: Wakanda Forever.
Mitzi Mabel Cadena Biography
Cadena was born on September 23, 1990, in Naucalpan, but grew up in Minatitlán, Veracruz. She is of Nahua origin and speaks Nahuatl fluently.
She has a bachelor's degree in Psychology and a master's degree from Veracruz University. After graduation, she started training at the CasAzul Artes Escénicas Argos academy in Tlalnepantla de Baz, State of Mexico.
Career
Cadena started her acting career in 2012, playing the role of Adela Rosa Chávez in the TV series Capadocia for HBO Latin America. She then went on to feature in television productions such as Camelia the Texana (2014), El Señor de los Cielos (2014), Érase una Vez (2017), Las Malcriadas (2017), El Vato (2017), Ingobernable (2017), Por la Máscara (2018), La Bandida (2018), Monarca (2019) and Hernán (2019).
Cadena went into the cinema with the production Los adioses (2016), La diosa del asfalto (2020) by Julián Hernández Pérez, and El baile de los 41 (2020) by David Pablos, a role that earned her fame in Mexico by playing Amada Díaz, Porfirio Díaz's stepdaughter. She featured in short films like Menage à trois (2015), Fight Back (2017), Cuatro minutos (2021), and several others.
Cadena made her Hollywood debut in 2022 with Marvel Studios' film, Black Panther: Wakanda Forever portraying Namora, Namor's cousin.
Mitzi Mabel Cadena Movies
2012: Rosa diamante
2012: Cappadocia
2014: Camelia la Texana
2014: El Señor de los Cielos
2017: Érase una vez
2017: Las Malcriadas
2017: El Vato Meche
2017: Ingobernable
2018: Por la máscara
2018: La bandida
2019: Hernán
2019: Monarca
2021: No fue mi culpa
2022: Señorita 89
2022: Los enviados
2016: Ménage à Trois
2016: Los adioses
2018: Dos veces tú
2020: La diosa del asfalto
2020: The Dance of the 41
2021: Four Minutes
2022: Black Panther: Wakanda Forever
2022: Posthumous Revenge
Awards/Nominations
Cadena was nominated as a Lead actress for her role in the movie The dance of the 41 in 2021 and 2022 as a Female co-performance for the movie The goddess of asphalt.
Mitzi Mabel Cadena Net Worth
The Black Panther movie star's net worth is estimated at $1.5 million.